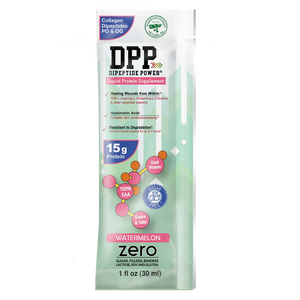 The most advanced protein formula clinically proven to accelerate the wound healing process. 
Dipeptide & Collagen/Whey Protein

Proline-Hydroxyproline (PO)
Hydroxyproline-Glycine (OG)
Hyaluronic Acid
L-Glutamine
L-Arginine
L-Citrulline
Zinc & Copper
Vitamin C, E, B-12
Features
15g Dual protein & 100% EAA
Increases skin moisture & elasticity
Stays in Plasma 4 hours
Repairs Skin from within
Predigested/rapid absorption
Prevents enzymatic breakdown
Speedy healing & lower costs
Watermelon Flavor 
Recommended Usage:
For

 

Mild wounds

 

such as stasis ulcers, abrasions, skin tears & bruises: Take 2 Tbsp. / 2X a day.
For

 

Moderate & Severe wounds

 

such as deep tissue, unstageable wounds, post-surgical & diabetic wounds: Take 2 Tbsp. / 3-4x a day.
PLEASE NOTE:
Consult with your healthcare provider before starting new therapies. Do not use for weight loss & is not a sole source of nutrition.
DO NOT USE: In people with a know hypersensitivity to any of the ingredients. 
KEEP OUT OF THE REACH OF CHILDREN
DO NOT USE IF SAFETY SEAL IS DAMAGE OR MISSING
KEEP AWAY FROM DIRECT SUN LIGHT OR OVERHEAT
STORE AT ROOM TEMPERATURE: 15 - 30°C (59 - 86°F)
DPP Dipeptide Power is registered trademark of ND Labs, Inc.
RV Nutritional LLC distribute DPP Dipeptide power in Puerto Rico.
These statements have not been evaluated by the Food and Drug Administration. This product is not intended to diagnose, treat, cure, or prevent any disease.